UNLADYLIKE2020 has assembled a highly experienced, diverse, female-led media team with decades of experience creating award-winning non-fiction and history content for public media, commercial television, and digital platforms.

Charlotte Mangin |
Creator, Series Producer & Director
Charlotte Mangin is an award-winning documentary filmmaker and the creator, producer, and director of UNLADYLIKE2020. She spent five years on the production staff of National Geographic Television & Film, reporting from the jungles of the Amazon to the Himalayan Mountains, and five years as a story producer for PBS's award-winning international affairs series Wide Angle. Her hour-long program, Class of 2006, about women's rights in Morocco, won an International Documentary Award, and in 2012 and 2013, she was nominated for 4 Emmy Awards for producing a 4-part archival documentary series for Thirteen/WNET in celebration of the flagship public television station's 50th anniversary. Mangin was the Series Producer for America By the Numbers, a PBS public affairs series telling underreported stories about America's changing demographics, and for Humanizing America, a digital shorts series profiling the diversity of the American experience today, distributed by NBCNews.com. She recently served as the Interim Executive Director of the nonprofit media organization Futuro Media Group.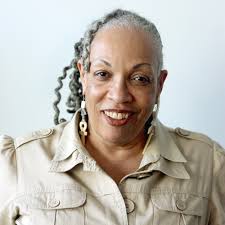 Sandra Rattley | Executive Producer
Sandra Rattley has been Executive Producer of seminal documentary projects including the Peabody award-winning series Wade in the Water on African American sacred music produced with the Smithsonian Institution, and Making the Music, hosted by Wynton Marsalis. She was also Executive Producer of the PBS Digital Studios series, Read Awakening and currently serves as Executive Producer for TV and Video at Futuro Media, where she launched the PBS series America By The Numbers and NBCNews's Humanizing America. She is the former VP for Cultural Programming at NPR where she launched the weekly show, Wait, Wait Don't Tell Me, as well as NPR's office of civic engagement. Rattley also serves as Creative Consultant for Black Public Media's 360 Incubator, a mentorship program for African American media makers. She has been a consultant for the Rockefeller Foundation, Ford Foundation, Howard University Center for Urban Progress, and Brandeis University. She was a press spokesperson and a member of the communications team for Nelson Mandela on his first U.S. tour.
Amelie Chabannes | Artist & Artistic Director
Amelie Chabannes is an artist who works primarily in sculpture, installation, drawing and animation. She studied Architecture and Fine Arts in a leading French Art School, ENSAD, and worked for many years with architects and designers on major projects, such as the Cultural Center in Riga, Latvia. Her work has been exhibited in international venues including: The Aldrich Museum of Contemporary Art (Ridgefield, CT), The Gasthuismuseum (Geel, Belgium), the critically acclaimed art festival Crossing the Line in 2009 and 2011 (New York, NY), Kunsthalle am Hamburger Plaz (Berlin, Germany), Galerie Hussenot (Paris, France), Stephan Stoyanov Gallery (New York, NY), NADA Sculpture exhibition (Miami, Florida), Syracuse University Art Center/The Red House (Syracuse, New York), Galeria Fernando Zubillaga (Caracas, Venezuela) S.E gallery (Bergen, Norway), White Box (New York, NY), Galerie of Marseille (Marseille, France), Museo Frantz Mayer (Mexico City, Mexico) and Drawing Now 2012 (Louvre, Paris). Chabannes has been awarded the International Center Award of Excellence for Fine Arts (New York, NY), and is a grantee of the Pollock-Krasner Foundation, and the NYFA Foundation.
Artesia Balthrop | Line Producer & Music Supervisor
Artesia Balthrop is a line producer and production professional with more than 13 years of experience on linear, digital, film and advertising projects. She has worked for a variety of flagship cable media brands like VH1, Bravo, TLC and E!; on Essence magazine's award-winning website, ESSENCE.com; and with JAY Z on his award-nominated YouTube channel, Life + Times. She executive produced the independent short African Booty Scratcher (2008, dir. Nikyatu Jusu) which premiered at the American Black Film Festival and was licensed by HBO for their Black History Month collection. She also produced the viral documentary on JAY Z's inaugural concert series to open the Barclays Arena, Where I'm From. She attended Duke University and learned to embrace key Quaker values like simplicity, equality and community by attending The Brooklyn Friends School. She now imbues her visual projects with similar ideals and is a staunch proponent of using film and television as a storytelling tool.
Kathy Leichter | Development & Impact Producer
Rebecca Kent | Archival Producer
Virginie Danglades | Editor
Kathy Leichter is an award-winning documentary producer, director, and impact producer with over twenty-five years of experience. She has extensive experience designing and implementing successful outreach and engagement campaigns for documentaries, and has produced over 300 impact events across the country on issues including economic justice, mental health, women, civil discourse, juvenile justice, and Jewish identity and the Holocaust. Leichter directed and produced A Day's Work, A Day's Pay, in association with ITVS, which follows three welfare recipients in New York City, and designed and directed the film's 5-year audience engagement campaign. Her most recent film, Here One Day, about mental illness and suicide, premiered at IDFA, won Best Documentary and the Jury Prize at the Scottish Mental Health Arts and Film Festival, and is now the centerpiece of a national screening initiative that Leichter designed and currently directs.


Rebecca Kent is an investigative producer with expertise in archival research, rights and clearances. Her credits include the award-winning Amanda Knox Documentary which premiered on Netflix in 2016; Crooked Media's The Wilderness, a fifteen-episode audio documentary on the history and future of the Democratic party; and PBS's The Black Panthers: Vanguard of the Revolution. She holds a masters degree in journalism from Northwestern University and bachelors degrees in political science and English Literature from Kenyon College.
Virginie Danglades is a film and TV editor who works on strong story- and character-driven films, immersive and verité-style documentaries and intimate narrative features and shorts. One of her recent projects, "No Farewells," ("Sans Adieu"), a documentary feature by French photographer-turned-filmmaker Christopher Agou, opened at the Cannes Film Festival in 2017. Along with working on independent films, Virginie edited the last hour of the four-part documentary series which aired on PBS: "Reconstruction, America after the Civil War." Virginie has also been a regular editor on the ongoing investigative series "This is Life with Lisa Ling" for CNN and, prior to that, "Our America with Lisa Ling" for OWN. Overall, Virginie is committed to editing content and film projects that will help further the understanding of our complicated world.
Xuan Vu is a documentary editor whose independent documentary work spans the globe, from films about orphaned children in Colombia to non-profit sustainability efforts in Haiti to female migrant workers in Nepal. She has garnered international recognition at numerous festivals and won several distinguished awards, including the "Audience Award for Best Feature Doc" at the 2018 New Orleans Film Festival for her work on While I Breathe, I Hope, the "Audience Choice Award for Best Feature" at the 2015 Viet Film Fest for her work on Can, and the "CHOICE Award for Best Documentary Feature" from the Broadcast Critics of America for her work on Stealing America: Vote by Vote. Vu's editorial contributions to network television series such as America By The Numbers, Dark Net, The Story of Cool, and This is Life with Lisa Ling, have been broadcast on CNN, Showtime, PBS, MSNBC, and Animal Planet, among others
Josie Hirsch | Researcher & Production Assistant
Willa Jones | Researcher & Production Assistant
Mariana Surillo | Researcher & Production Assistant
Hina Ali | Assistant Editor
Josie Hirsch is a Researcher and Production Assistant who has worked with UNLADYLIKE2020 since 2017, when she began as a Research Intern. Hirsch has seen this series in its early R&D stages and watched it bloom into a major national project in production. She looks forward to working on the project through the post-production and Impact phases in the coming months. Hirsch is a graduate of Barnard College of Columbia University, where she studied American History.

Before joining UNLADYLIKE2020 as a Researcher and Production Assistant, Willa Jones assisted documentary projects at The Documentary Group, where she conducted research for series, shorts and impact campaigns, and managed international grants for Girl Rising, a film that became a global movement. Jones has worked with a range of organizations and communities to develop engaging programs, and help tell their stories. At the firm Project for Public Spaces, Jones managed a National Endowment for the Arts initiative that organizes workshops in rural communities across the country to help revitalize them. She also developed and led educational workshops for girls at the organization ROW New York. Jones graduated from Skidmore College with a bachelor of arts in sociology, and a minor in dance.
Mariana Surillo is a Researcher and Production Assistant, who started working with UNLADYLIKE2020 as an intern in 2018. Before joining the project, she worked in the field of public health communications, and her work was published in the National Institute of Environmental Health and Sciences Global Health Newsletter, Nexus Media News, and HuffPost. Surillo's passion for journalism and multimedia communications sparked her interest in a career in documentary filmmaking to enact social and environmental change. She holds an MPH in Global Environmental Health from Milken Institute School of Public Health at George Washington University, and graduated from Saint Joseph's University with a Bachelors degree in Environmental Science and a minor in Economics.
Hina Ali is a documentary filmmaker with expertise in film editing. Ali's work includes feature documentaries such as Among the Believers and Insha'Allah Democracy. Ali has edited and produced content for Vice, PBS, BBC, Netflix, Prime, Hulu, Spotify, Starz, Today Show, and Cheddar. Her films have garnered critical acclaim at various film festivals including Tribeca Film Festival, Sheffield International Documentary Film Festival, Sydney Film Festival, Vancouver International Film Festival, and Documentary Edge Festival. In 2012, Ali wrote the concept and story of "3 Bahadur" or The Brave 3 in English, Pakistan's first computer 3D animated feature movie. Ali is a former Fulbright Scholar/Hubert H. Humphrey Fellow and a Chevening South Asia Journalism Fellow.
Jasmine Sabadosa | Research & Production Intern
Jasmine Sabadosa is a student at Barnard College of Columbia University, where she studies sociology and women's, gender and sexuality studies. She is a staff writer for the Columbia Daily Spectator in the arts and entertainment section and an interviewer for the undergraduate arts publication Ratrock Magazine.
Ani Wilcenski | Research & Production Intern
Ani Wilcenski is a student at Columbia University, where she studies creative writing and is the Editor-in-Chief of Columbia's humor magazine. She has been a Research and Production intern at UNLADYLIKE2020 for almost two years.
Kïarã Bhagwanjee | Research & Production Intern
With her work in the media industry, Kïarã Bhagwanjee seeks to challenge norms, uproot complacency, and promote an informed global perspective. She joined UNLADYLIKE2020 as a Research and Production Intern in 2017, pursuing her commitment to expanding the ways that women are portrayed in the media. Bhagwanjee currently works for CNN's First Move with Julia Chatterley, and Fareed Zakaria GPS, while continuing to support the UNLADYLIKE2020 team. She recently graduated from Vassar College with a Bachelor's degree in Economics and Film.